President and CEO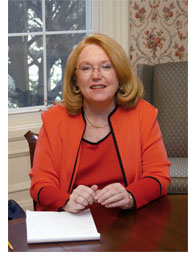 Jan is President and CEO of Applied Research Corporation, a specialized leadership development company focused on assessing, coaching, and talent management. She embodies the rare blend of entrepreneurship and coaching to C-Suite executives in a multiple of industries. She is a highly sought after advisor to newly appointed executives as they transition into their new responsibilities.
Jan was senior vice president at Bristol-Myers Squibb responsible for Executive Resources and vice president for executive development at Bankers Trust Company. In her varied career, she also was the co-producer and on air host of the award winning weekly PBS primetime news show - Women: Choices and Challenges.
She is a founding member of the National Association of Corporate Boards of Directors-NJ; member, Board of Trustees of the Trinitas Regional Medical Center; Chair, Trinitas Health Foundation; member, Advisory Board Rothman Institute of Entrepreneurism, Silberman College of Business at Fairleigh-Dickenson University.Jan was the first woman elected as President of the American Society for Training and Development.
She holds a master's degree in behavioral science from Boston University and has taught at Georgetown and University of Maryland.
She has published numerous articles on leadership..